Lately this has been a very difficult thing for me to come to grips with -- my lack of direction and/or focus in one true area. There are days when I feel like I should be sewing items for my shop while others I just want to abandon the sewing machine altogether in favor of paint, plaster, stencils and the cabinets full of faux tools I own.
But then I start to wonder, how the heck does the decorative treatment I apply to a whole room translate into not only something small enough to put in my shop but also environmentally responsible enough that my teammates in EcoEtsy won't chase me down the street like an angry mob carrying torches? With LED lights attached, not burning materials of course.
The Real and the Faux
The type of products I use in my paint treatments are all, let me repeat that,
all
, water based. I have actually turned down work because they desired an oil based finish and although the paycheck would have been nice it would have been hard to justify sleeping at night after releasing that much VOC into the atmosphere.
In case you're not up to speed on what VOC's are feel free to check out this article I wrote up a little less than a week ago:
What the Heck Is With A VOC Anyway?
For the smaller more accesible items I do tend to source materials from stuff I already have on hand and my inspiration comes from just about everywhere! Just the other night my husband and I were doing our evening workout and all of a sudden I noticed the "metal" panels behind the participants in the video.
I had seen them a million times before but it suddenly hit me that they were rusted. Yet the impression was that they were steel. Steel doesn't really rust so I knew it was a finish and all at once I was doing my moves by rote while I tried to envision what paints I already had on hand to mix up a batch and try to recreate the effect.
That's the other thing, if I can help it I don't buy new products when there are perfectly good paints in multiple colors, and low VOC tints, in my back hall cabinets that I can use to mix up whatever shade I need. Not to mention with a house full of random bits and pieces, sometimes its fun to freshen them up with a new and fun finish.
Yeah, But Is It Attractive?
The really great thing about faux, decorative treatments, standard paint is that the beauty is in the eye of the homeowner! I have done some stuff that would never (and I mean
never
) grace my own home yet I still enjoyed completing the finish because the satisfaction of the client was the single most important thing at the end of the day.
Want an example? Well I thought you'd never ask!
I had a straight up paint job last summer where I worked as a Sub-Contractor for a General Contractor who was renovating a home to rent. He wanted a good solid return on his investment and didn't want to put in more effort or money than the area called for. A reasonable business practice and one that worked out in his favor. Yet I (internally of course) shook my head at him when he asked me to paint the somewhat beat up hardwood floors throughout the house in brown.
Bottom line was I really didn't think it added much to the look and feel of the space but
I wasn't living with it
! In the end he wasn't either but, since he
was
the one who hired me, I simply made sure it was a water based paint, grabbed a roller and a tray then got to work.
For Sale: Your Old For Sale Sign
With all of my soul searching I decided on (or, probably more appropriately accepted as truths) a few things:
I really enjoy painting and conceiving of interesting finishes.
Faux kind of comes naturally to me; even if I've never done it before I can probably figure it out.
I am far more apt to get frustrated while sewing than while fauxing items I plan to sell.
The very nature of faux means I never screw up, its just becomes a different finish.
Materials can come from anywhere and they don't need to cost a million dollars.
That last point is really important because I've made some things out of items that people would have never believed. A good example is my small sample boards.
Most finishers use a product called
Mighty Boards
to work up a sample. They are a heavy weight plastic based material that are waterproof and pretty much indestructable but can be cut to any size or shape with a regular old pair of good weight household scissors. With the correct primer, a finish will stick to them forever without chipping or peeling off.
The real issue is they are expensive as all get out for those of us who only do a few big jobs a year so I started looking for alternatives. Enter the For Sale sign. Made of a similar material (albeit much lighter weight) these signs come in a couple different sizes and I can pick them up at my local hardware store. Which means no cost to ship. And the cost to purchase is reasonable. The smaller signs run me about $0.49. They are great for working up samples that I plan to either cover over or may need to rework to meet a client's needs.
Plus I can find them for free or cheap on sites like craigslist or Freecycle if I spend a little time researching.
The Big Idea
So the other night when I was putting the second coat of primer on a couple of these boards I had a brainstorm. It came to me as a result of having recently started a decorative wall hanging that I intend to put in my shop for sale a little later this week when I get the kinks worked out on how I want to finish the edges.
The wall hanging is a khaki sage green color wash with raised roses that I accented in pearl paint. It is shaping up really nicely and those of you who follow me on Facebook have already seen the sneak peek but for those who haven't: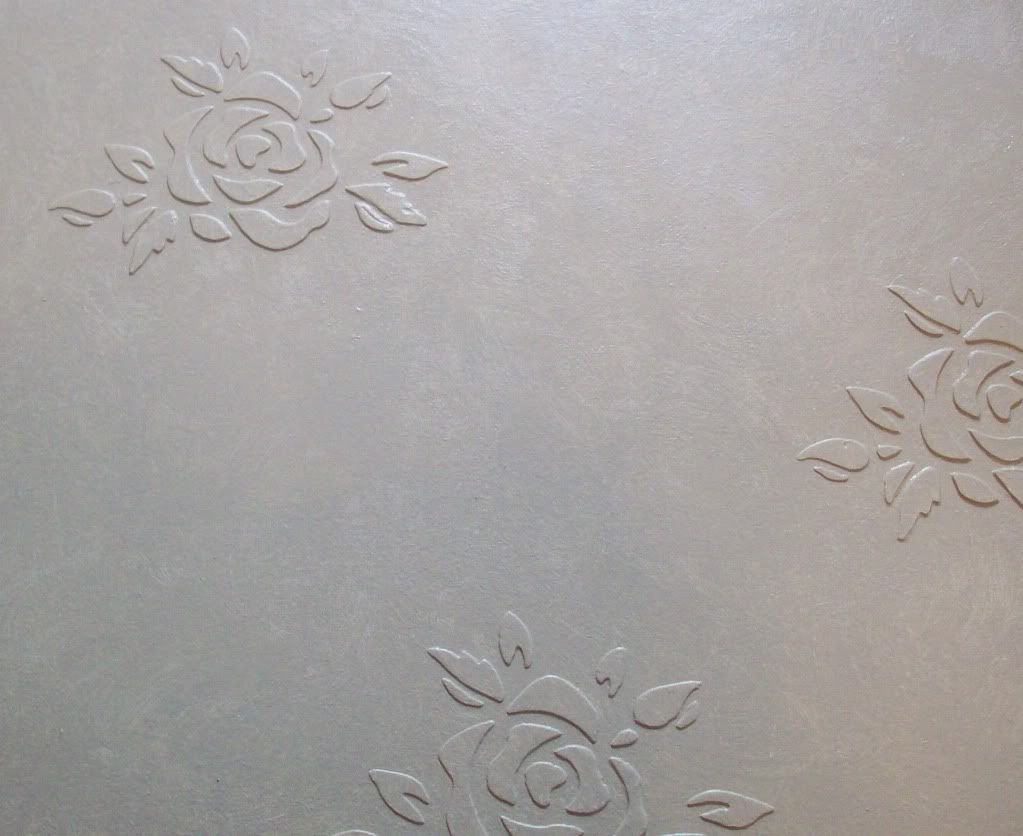 The roses are made from dragging joint compound through a stencil and it hit me that I could do just about anything in this manner. Some of the items I've considered might be words (like LOVE, CHOCOLATE or PRINCESS). Or perhaps just a few more of these pretty roses or other fun shapes. I have a folder full of stencils and buckets full of joint compound so I might as well put them to good use right?!
In the next few weeks I'll be cutting up my For Sale signs, painting them, finishing them and then scrounging around the basement for some leftover wood shims that I can glue together to act as frames.
Stay tuned for pictures and info on these new items as I complete them. And who knows, maybe some of them will even have a rusted steel background...